Jurassic World: Dominion Dominates Fandom Wikis - The Loop
Play Sound
"Why don't you have a seat?"




- Chris Hansen's catchphrase right before he reasons with a suspect.
"What he does/says next will/may shock you."
- Usually said right before the suspect enters the sting house or the chat is about to be read by actors to the audience.
"You know how this looks?"

"Well there is one more thing you need to know. I'm Chris Hansen with Dateline NBC, and we are doing a story on computer predators. If you have anything else you would like to say, we would love to hear it, but if not you are obviously free to leave."

- Hansen's closing statement right after he is done reasoning with a suspect.
Christopher Edward (Chris) Hansen is a journalist, TV News Anchor and the host of To Catch A Predator. He has worked on television since 1981.
Early Life
Hansen was born on September 13, 1959 in Chicago, Illinois. Hansen grew up in the northern Detroit suburbs of West Bloomfield and Birmingham. Hansen attended Brother Rice High School in Bloomfield Hills, Michigan. In an interview with the Lansing City Pulse, Hansen has said that watching the FBI and police investigate the disappearance of Jimmy Hoffa when he was fourteen inspired him to want to become a journalist.[1] He graduated from Michigan State University College of Communication Arts and Sciences in 1981 with a bachelor's degree in telecommunications and was a member of the Phi Delta Theta fraternity.[2]
To Catch A Predator
Hansen usually introduces himself right after the decoy leaves the room, or when he feels it is ready to reason with the suspect, usually saying "Just take a seat right there" or some variation of that sentence. He then proceeds to ask the predator why he is at the sting house, usually with the suspect giving him an excuse (sometimes leaving immediately after seeing him or very rarely to flat out admitting that they planned to have sex with a minor). These excuses are usually that they were just stopping by, trying to be a mentor, looking for a job, that this is their first time doing it, etc. Then, Chris will usually read the chat log that the suspect had with the decoy, which almost always included graphical sexual conversations. He then usually asks the suspect if they brought condoms, to which they will often say yes, and will usually give the exuse that they always carry them on them.
When he is done asking questions, with the purpose of not being labeled as law enforcemen, he then tells the suspect that he is "Chris Hansen with Dateline NBC and we are doing an investigation on sexual predators trying to hook up with kids on the internet. If you have anything else you would like to say we'd love to hear it, but if not you are obviously free to walk out that door", in which the suspect then walks out of the door (sometimes covering their face when revealed to the cameras) and is then arrested by hidden and sometimes camouflaged police officers.
Hansen vs Predator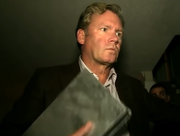 In 2015, Hansen started a Kickstarter to gather funds for a new child predator investigation titled "Hansen vs. Predator". He had intended the show to be a web series with crowd funders getting promotional merchandise such as coffee mugs and access to behind the scenes footage as well as extra footage from the confrontations. Hansen was unable to reach his Kickstarter goal and sold the rights to Crime Watch Daily to show on their digest show.
Hansen's narration and approach was less snarky and much more hard edged than on Dateline NBC, labeling the men "slime" and "scumbags". Ten men were confronted and subsequently apprehended during the Fairfield, Connecticut sting, but only nine were broadcast. The tenth man, Vincent Ambrosio, wasn't shown out of fears for his mental health. A second sting was planned in a hotel in DeKalb County, Georgia. The sting appeared to have taken a shift from online predators to men soliciting child prostitutes. Two men, Jermaine Howard and Federeco Mendez, were confronted and arrested on sex trafficking charges. In Howard's case, he stripped naked.[3] As of April 2020, this footage has not surfaced.
2019 Arrest
In January 2019, Hansen was arrested for larceny after bouncing checks to up to $13,000. This stemmed from Hansen trying make good on delivering merchandise for those that donated money via Kickstarter to fund his "Hansen vs. Predator" operation in 2015, but had gone four years without delivering anything.[4] Hansen passed these bad checks to the firm responsible for making the "Hansen vs. Predator" mugs.[5] The charges were later dropped after a fan of his predator catching activities paid the bill.
CopyrightGate 2019
In 2019, Hansen decided to reach into the world of YouTubing and create a revenue stream. He retained the pro bono services of a producer named Vince Nicotra to make a channel called "Hansen vs Predators" in which he would make a gateway to a pay to view premium content site promising content and footage not yet seen. In the midst of this, Chris and Vince would go to other channels showing TCaP content or any content related to the busts on TCaP such as police interrogations, "where are they now" videos, predator analyses, and other transformative fair use content and issue copyright strikes against them despite the actual TCaP content being the property of NBC and not Hansen (NBC/Comcast has removed TCaP content from YouTube in the past). Hansen and Vince would then take the footage they had gotten taken down and repost it on their channel.[6] This also included the "extra content" that was promised to "Hansen vs. Predator" Kickstarter donators which was never delivered meaning said donors would have to pay Hansen twice to get the content they were promised and there was only one original piece of premium content released on the channel over the course of the channel's existence. This caused a major backlash against the Hansen fan base and caused the second TCaP schism (The first one being with "The Ramona Tapes") with one side continuing to defend Hansen and blaming Vince for the takedowns (despite Chris making a statement that anything with his name and/or face on it was his intellectual property), and those that put the blame squarely on Chris' shoulders. Hansen and Nicotra would also leak the personal information of those who had paid if they complained about their chicanery (aka doxxing). The Hansen vs Predators channel would close down due to copyright strikes presumably from NBC (yet there are reports of people with a subscription still being charged months after the shutdown) and Nicotra was fired by Hansen, but irreparable damage had been done to Hansen's fan base and reputation. Nicotra would also be charged by authorities for aggravated harassment.[7]
Have A Seat With Chris Hansen
Following the end of his "Hansen vs. Predators" channel, Hansen opened a new channel on YouTube called "Have A Seat With Chris Hansen". It's a livestream where he interviews various Internet personalities as well as victims and attempts to interview their perpetrators. His first target was James Jackson (birth name Gregory Daniel) aka Onision who has been embattled with accusations of child grooming and abuse. Hansen interviewed his alleged victims and when going to interview Onision, had 911 called on him and tried to have a protection order served against Hansen. However, Onision had the order served against a different Chris Hansen than he intended. [7] Apparently running out of options on confronting Jackson, Hansen turned over his findings to a friend at the FBI for further investigation. Hansen also received a laptop from one of Jackson's alleged victims and was purported to be a "smoking gun". Rather than immediately turn it over to authorities, Hansen gave the laptop to Vince Nicotra for safekeeping. Whether it was known or unknown to Hansen is debatable, but that action had contaminated the evidence making it unusable to bring charges and therefore allowing Jackson to walk away from the investigation with no charges filed.[7] At the end of his investigation, he turned over all of the findings and sold the story of it to cable channel Investigation Discovery. The investigation ended up being aired online as part of the new online streaming service Discovery +.[8] Hansen received criticism from this as much of the material he gathered for the story was gathered from others who were investigating Jackson.
Afterwards, Hansen turned his attention to music personality Dahvie Vanity (real name Jesus Torres) who is under investigation of sexual assault allegations from 21 women, sixteen of which are underage. A former band member, Fallon Vendetta, collaborated with Hansen on the investigation.[9] Similar to the Onision investigation, no real headway was made and no charges came of the investigation.
Recently, Hansen, in collaboration with other amateur predator hunters, has started an investigation into former YouTuber Bryant Moreland aka EDP445 after he was caught by an amateur predator hunting group trying to meet an underage girl.[10]
2021 missed court hearing
On July 1st, 2021, an arrest warrant was put out for Hansen, after he failed to show up at a Michigan court hearing concerning footage he obtained from a sting operation with the Shiawassee and Genesee County Sheriff's Department. [11]
The following morning, Hansen appeared before a judge, satisfying the arrest warrant. According to the prosecutor, Hansen has 14 days (from July 2nd) to present the unedited footage from the sting to the defense attorney for Michael Lott, a suspected predator who was caught in the sting. [12]
Chris has tried to explain his side of the story on his "Predators I Have Caught" podcast, calling the articles against him "click bate".[13]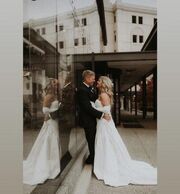 Personal Life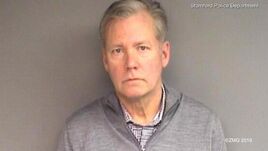 Chris is divorced with two children. He was divorced in 2019 before his check bouncing scandal but his marriage was on the rocks since 2011 due to his many infidelities, most notably with a then 30 year old NBC affiliate station reporter Kristyn Caddell. Their affair was uncovered by co-workers who had stalked the pair in an ironic hidden camera operation with the footage being leaked to the tabloid newspaper The National Enquirer.[14] The consequences of the affair was Hansen and Caddell losing their jobs at NBC and Caddell being blackballed from the news industry.[15] He was evicted from his New York apartment in January 2019 after not paying rent on it for five months. He apparently now lives in an office his friend lets him borrow. British newspaper, The Daily Mail, dove into Hansen's financials and found out that he also owed $250,000 in taxes, has a $60,000 American Express bill, and owes over $1m on his mortgage as of last year.[16]
On November 13th 2021, Chris got remarried in Detroit to a woman named Gabrielle[17].
Trivia
Chris Hansen made a cameo as himself in Season 2 Episode 1 of "The Boys."
Chris has a podcast called "Predators I've Caught" where he reminisces on past predators, shares behind the scene's information, and reads through sections of the chatlogs fully uncensored. This podcast is available on Spotify, Apple Podcasts, and Amazon Music.
He initially didn't release his confrontation with Vincent Ambrosio due to concerns with his mental health, but ended up releasing the footage as part of the premium content in association with his Hansen vs. Predators channel. This was also the only "exclusive content" Hansen would ever release for the channel.
Has an apparent disdain for southerners, making it a point to either mock their accent in person, or in post-production.
References